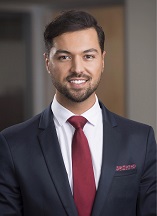 Iman Hosseini
Location:
Vancouver, British Columbia, Canada
Phone:
604-685-6864

Fax:
604-685-7878

Email:
Iman completed his articles at a leading employment law firm in Vancouver, where he assisted with cases in various stages of litigation in all levels of court including acting as junior counsel at trial and on judicial review. Throughout his articles, Iman had conduct of his own small claims, Employment Standards Branch, and Human Rights files and has since worked on numerous real estate and corporate matters in addition to his litigation experience.
Iman holds a law degree from the University of Ottawa where he was the recipient of the Harold G. Fox Scholarship. While at law school, Iman volunteered with UBC's Law Students' Legal Advice Program (LSLAP), Ottawa's Housing Justice Project, the Access Pro Bono Society of BC, and the Conviction Review Project. In his third year, Iman completed an academic exchange at the University of Vienna with a focus on international business law.
Prior to law school, Iman earned his Bachelor of Arts honours degree studying Psychology at Simon Fraser University while working concurrently as a research and teaching assistant.
When not practicing law, Iman enjoys yoga, travelling, and producing music.
Education
University of Ottawa, Faculty of Law
University of Vienna, Faculty of Law

Academic exchange in international business law

Simon Fraser University

Bachelors of Arts (B.A.) – First Class Honours in Psychology (President's and Dean's Honour Roll)